Whale Watching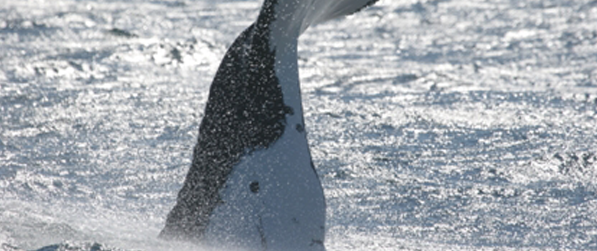 The Sapphire Coast offers a unique opportunity to see Humpback Whales on their Southern migration. Mothers, calves and their escorts are attracted to our many inshore reef systems and we are often delighted with the rare and spectacular displays of feeding, breaching and tail slapping frenzies. Sights rarely seen in other areas along their migration route south.
Humpbacks have shown they are a resilient species. After decades of devastating commercial whaling, they have fought their way back from the brink of extinction to once again thrive in our Southern Oceans, with over 7,000 whales now reportedly migrating along our coastline.
Did you know that Humpbacks can grow as large as up to 17metres in length, weigh up to 45 tonnes and have lungs the size of a small car! Their flippers alone can be as large as 5metres in length. Contrary to many beliefs they do not mate for life, in fact they are quite promiscuous, and live to about 50 years of age.
Humpbacks are not alone in our great southern oceans, now that most whales are free from the exploitation of the past, we are fortunate to be able to witness many whale species along our amazing coastline. From the largest and rarest Blue whales, to the powerful and voracious predators that are the Orcas, from the rare and unique white 'Migaloo' whale, to the shy and timid Southern Right, our waters are a sanctuary to many varieties.
Reel Affair Charters, Merimbula's finest Charter Vessel, offers an up-close and personal experience with a maximum of only 12 passengers. With a professional onboard crew and commentary and complimentary tea, coffee and a light snack, Reel Affair offers a relaxed and intimate view of these magnificent creatures where sightings can almost be guaranteed throughout the months of September, October and November.
For accommodation in Merimbula, check out our very own Fisherman's Lodge. Gift Vouchers are also available on any of our charters. Please contact us anytime to discuss your needs.
All charters depart from the main public wharf
Market Street Merimbula (opposite the Lakeview Hotel).
Latest Whale Watching photos – 2009
Whale Watching Charter with Marine Mammal Research group
Archived Photos
How to spot a whale at sea?
Look for the blow of a whale, ie. the cloud of spray or mist that appears as the air is exhaled through their blowhole. This is usually how whales are first seen.
Look for a sudden splash in the water, where a whale may have slapped or breached.
Look for water movement, like a whirlpool effect just under the surface – this may be caused by their footprint (tail movement under the surface) or possible feeding behaviour.
You may see a fluke (tail) descending into the sea
You may see a fin move through the water